---
HEAD

The Feature-Length Motion Picture
---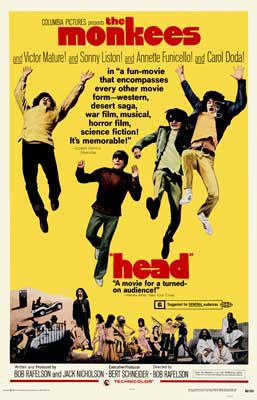 Production No. 8888
Approved MPAA Certificate No. 21917
Working Titles: Untitled, Changes, DASturb
First Draft (for Changes [HEAD]): December 19, 1967
Filmed At: Screen Gems Studios, Paramount Studios and on location in California

(Gerald Desmond Bridge, Long Beach; Pasadena Rose Bowl, Pasadena;

Playa Del Rey; Bronson Canyon; Palm Springs; Columbia Ranch,

Burbank), Utah (Valley Music Hall, Salt Lake City), and Paradise Island,

The Bahamas.
Filming Dates: February 15–May 17, 1968.
Cost: $750,000
World Premiere: November 6, 1968 (New York City)
General Release: November 20, 1968 (Los Angeles, Philadelphia, San Francisco,

Washington, Boston)
Foreign Releases: 1969 (West Germany); May 1969 (Australia; Cannes Film

Festival, France); March 1977 (The National Film Theatre, United Kingdom);

August 5, 2007 (Film and Art Festival Two Riversides, Poland)
TV Broadcast Premiere: December 30, 1974 (CBS)
Alternative Titles: Cabeza (Argentinan title), Glowa (Polish festival title), Sogni perduti

(Italian title)
©11-1-68; LP36397
Gauge: 35 Millimeter
Running Time: 86 Minutes (originally 110 minutes)
MPAA Rating: G for General Audiences

Home Video Releases:

Head (RCA/Columbia Pictures Home Video VHS #60702/Beta #20702, September 18, 1986)
Head (Image Entertainment [or Laserdisc Corp. of America] laserdisc #30702, September 18, 1986)
Head (Rhino VHS R3 2185, January 25, 1995)
Head (Rhino DVD R2 4460, June 12, 2000)
---
Directed by Bob Rafelson
Written and Produced by Bob Rafelson and Jack Nicholson

Peter Tork
David Jones
Micky Dolenz
Michael Nesmith

Annette Funicello
Minnie
Timothy Carey
Lord High 'n' Low
Logan Ramsey
Officer Faye Lapid
Abraham Sofaer
Swami
Vito Scotti
I. Vitteloni
Charles Macaulay
Inspector Shrink
T.C. Jones
Mr. & Mrs. Ace
Charles Irving
Mayor Feedback
William Bagdad
Black Sheik
Percy Helton
Heraldic Messenger
Introducing
Sonny Liston
Extra
Ray Nitschke
Private One
Carol Doda
Sally Silicone
Frank Zappa
The Critic
June Fairchild
The Jumper
Terry Garr
Testy True
I.J. Jefferson
Lady Pleasure
and Victor Mature as The Big Victor
"Porpoise Song"
Gerry Goffin & Carole King
"Circle Sky"
Michael Nesmith
"Can You Dig It"
Peter Tork
"As We Go Along"
Carole King & Toni Stern
"Daddy's Song"
Nilsson
"Long Title: Do I Have To
Do This All Over Again"
Peter Tork
Incidental Music Composed and Conducted by Ken Thorne
Director of Photography: Michel Hugo
Art Director
Sidney Z. Litwack
Film Editor
Mike Pozen, A.C.E.
Set Decorator
Ned Parsons
Property Master
Jack Williams
Costumes
Gene Ashman
Special Effects
Chuck Gaspar
Photographic Effects
Butler-Glouner
Color by Technicolor
Choreography
Toni Basil
Music Coordinator
Igo Kantor
Music Editing
Synchrofilm Inc.
Sound Recorder
Les Fresholtz
Sound Effects
Edit-Rite, Co.
Re-Recording
Producers Sound Service
| | |
| --- | --- |
| Srebmahc Yrret | Oreh |
| Snrub Ekim | Gnihton |
| Drapehs Rehtse | Rehtom |
| Iksotsleh Enitsirk | Dneirf Lrig |
| Namffoh Nhoj | Dneifxes Eht |
| Revaew Adnil | Yraterces Revol |
| Yelnah Mij | Frodis |
(on screen, these credits actually appeared backwards! You figure 'em out!)
Unit Production Manager
Harold Schnieder
Special Color Effects
Burton Gershfield
Bruce Lane
Assistant Director
Jon Andersen
Assistant To The Producers
Marilyn Schlossberg
Executive Producer: Bert Schnieder
A Raybert Production of A Columbia Pictures Release
---
WHAT IS HEAD? HEAD IS THE MOST EXTRAORDINARY ADVENTURE WESTERN COMEDY LOVE STORY MYSTERY DRAMA MUSICAL DOCUMENTARY SATIRE


(AND THAT'S PUTTING IT MILDLY!)

–Catchline from HEAD's theatrical trailer
---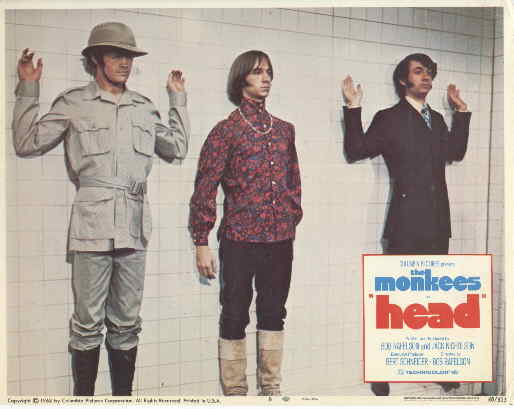 Click above to view the COMPLEET SYNOPSIS FOR THE MONKEES' MOTION PICTURE HEAD!
---
Production Notes For HEAD:
For his feature film debut, writer/producer/director "Robert" Rafelson takes screen credit as Bob the first time.
The Monkees' ramshackle beach pad crosses over from the TV show into the movie, with a few slight adjustments and/or additions, including stained glass, futuristic lounge chairs and table, a new couch, floating silver pillows, an elevator cage, fuzzy carpeting, a brown leather easy chair, a barber's chair, and an aquarium. Deleted is the bus stop sign, the number "4", the plane schedule, and the "Money Is The Root Of All Evil" sign on the wall, the dummy Mr. Schneider, and the tornado staircase (although the upper balcony remains intact!). Also, for the first and only time, use is made of a door buzzer, which has been newly installed in the pad.
Ken Thorne, composer and conductor of HEAD's incidental music cues (recorded at Goldwyn Studios in Los Angeles on Wendesday, October 2, 1968), was musical director for The Beatles' second film, Help! (United Artists, 1965). Coincidentally, it was The Beatles' communal pad in Help! which inspired The Monkees' beach pad on the TV series and in this movie; also, a scene from HEAD which finds a tank chasing The Monkees in the desert parallels a similar scene from Help!.
The origin of the movie generated in Ojai, California, where the foursome, Rafelson, Schneider and Nicholson ventured to generally spend an entire weekend in a resort motel verbally tossing story ideas into a tape recorder—which generally became the script for HEAD.
The Monkees wanted to become instrumental members in this project from start to finish. Later on, as the boys got wind of being denied screenwriting credit for the movie, they (all but Peter) decided to rebel by failing to show up on the first day of shooting, February 15, 1968. While they returned on February 16, feeling they'd made their point with producers Bob Rafelson and Bert Schneider, the unity between the band and the producers was forever broken. For their part, Rafelson and Schneider began playing albums on the set by other groups like The Electric Flag, claiming, "That's REAL rock-n-roll."
When it was finally edited together into a cohesive whole, the entire entourage ran 10 minutes short of an unprecedented 2 hours! A poor audience response at an August 1968 screening in Los Angeles eventually forced the producers to edit the picture down to an 86-minute length. For fear The Monkees' movie would force the more serious movie critics and movie goers to stay away in droves, the producers decided on a rather unorthodox promotion — one that would have nothing to do with Monkee business!
The bridge sequences were shot at The Gerald Desmond Bridge in Long Beach on Wednesday, April 17, 1968...the 34th birthday of former Monkees music supervisor Don Kirshner.
The World Premiere Engangement of HEAD occurred on Wednesday, November 6, 1968 in Manhattan; a gala was held there at the Columbia Pictures studio on West 54th Street attended by The Monkees, Janis Ian, Andy Warhol, Boyce & Hart, Carole Bayer, Lester Sill, Bert Schneider, Bob Rafelson, Peter Fonda, Peter's brother Nick Thorkelson, and his grandmother. An invitation-only debut of HEAD in Los Angeles took place @ 8:30 pm, Tuesday evening, November 19, 1968 at The Vogue Theater on Hollywood Blvd., attended by The Monkees, Phyllis Nesmith, Samantha Juste, Cass Elliot and Denny Doherty (of The Mamas And The Papas), Boyce & Hart, Dennis Hopper, actor Sonny Tufts, comedy troupe The Committee, Tina Louise, and supporting HEAD castmembers Frank Zappa, Sonny Liston and Annette Funicello. In the weekend following HEAD's Los Angeles premiere, The Monkees went to MGM Studios in Culver City to begin work on what would eventually become Peter Tork's final project with the band: the TV special 33 1/3 Revolutions Per Monkee.
A misleading ad campaign (a balding man's face? No indication of the group appearing in the film?) and a mistimed release date, due to a painfully prolonged postproduction process (November 6, 1968? Two months after The Monkees TV show's official cancellation [and the day after Richard M. Nixon defeated Hubert Humphrey in a knockdown, dragout vie for The Presidency!]?) helped sabotage this otherwise fun-loving crowd pleaser, which moved a meager $16,111 in ticket sales.
The live cut of Michael Nesmith's "Circle Sky," filmed and recorded before a live audience in Utah on the last day of shooting, May 17, 1968 (a poorly-recorded live lead vocal would prompt Nes to cut a new lead vocal at RCA Studios in Hollywood on May 21), would unfortunately be passed over for inclusion of the movie's soundtrack album (#COSO-5008, issued on December 1, 1968 as The Monkees' 6th album overall, and their last album as a quartet) in favor of a studio-recorded take, cut six months earlier. The cut, long a favorite of bootleg collectors, would not see legitimate release until 22 years later, on Rhino's Missing Links, Volume 2 compilation. Rhino's November 15, 1994 reissue of the HEAD soundtrack (R2 71795) features both the studio and live versions of "Circle Sky".
For the staged "Circle Sky" concert sequence for filming, which took place at 1 p.m., PR officer Floyd Ackerman, who previously geared up The Monkees' summer 1967 tour, spent a week stirring up interest and ensured an open-arms heliport welcome for the band. Radio KCPX 105.7 FM were given 4,000 free tickets to distribute to fans, precipitating a response so huge that a "bonus" concert was immediately scheduled, for which 5,000 more passes were handed out. After wrapping up shooting the movie with the concert sequence, The Monkees played that bonus concert (which ran 45 minutes) later that very evening at The Lagoon's Patio Gardens Theatre as a token of appreciation to the kids of Salt Lake City. (Filming was originally scheduled to take place at The Gardens, but the movie crew wasn't satisfied with the lighting there, and so was transferred to The Valley Aduitorium.) These turned out to be the very last concerts in America The Monkees ever played as a quartet.
The "Circle Sky" concert sequence in the movie HEAD marks the second onscreen appearance of The Monkees performing live, following the January 21, 1967 set at The Coliseum in Phoenix, AZ, which was filmed for Episode No. 32 of The Monkees, "The Monkees On Tour". (Look closely, and you just might catch a glimspe of a brief snippet from "The Monkees On Tour" of cops fighting back hysterical fans.)
Several other tracks in HEAD appear in the film in versions which differ aurally than they did on the soundtrack album:
Goffin and King's "Porpoise Song", backed with King and Stern's "As We Go Along", was released as a rather unsuccessful Colgems #66-1031 single on October 5, 1968 (The Monkees 8th and last single as a quartet), almost a full month prior to the premiere of HEAD in New York City and 2 months prior to the soundtrack LP's release.
A tune named "Get Tuff" (not sung by The Monkees) was written exclusively for the "dandruff" sequence in HEAD by incidental music composer-conductor Ken Thorne & writer-producer-director Robert Rafelson. It appears in the movie in its entirety, but appears on the soundtrack in brief snippets.
2 other tracks in HEAD, Peter Tork's "Can You Dig It" and Nilsson's "Daddy's Song", were originally recorded at Western Recorders and RCA Victor Studios in Hollywood in early versions with different Monkees singing lead: Tork sang his own composition, "Can You Dig It", while "Daddy's Song" was cut with a double tracked lead vocal of Michael Nesmith (in the 1920's vein of "Magnolia Sims" and "Tapioca Tundra"). These early versions were released as bonus selections on Rhino's 1994 reissue of the HEAD soundtrack.
In addition to co-writing and co-producing the movie HEAD with its director Bob Rafelson, Jack Nicholson also coordinated its adjoining soundtrack album, which boasted a surrealist mixture of song and dialogue with snippets of the movie dialogue between songs, and is so credited on the album cover. (When he saw Michael Nesmith at work in the studio and asked if he could help, Nesmith let him take over, because "I just want to go home!") Nicholson had unwavering enthusiasm for the movie, joining in a stickering campaign to promote the premiere (eventually getting himself and Rafelson arrested in return), and declaring later that "I saw it, like, 158 million times, man. I loved it!" The Monkees themselves produced the majority of the songs in the movie's soundtrack, save for "Porpoise Song" (Theme From HEAD), which was produced by Gerry Goffin.
Rhino's 1985 reissue of the HEAD soundtrack (RNLP-145) features the original 4:00 version of "Porpoise Song" (Theme From HEAD).
"Swami-Plus Strings, etc.", the closing track on the HEAD soundtrack, finds The Swami (the late Abraham Sofaer) speaking the line, "To experience The Now, without reconception or belief." However, the scene with him uttering this line was edited out of the movie itself.
Choreographer Toni Basil (who can be seen dancing with David Jones in the "Daddy's Song" musical number) became a one-hit wonder in 1982 with the song "Mickey."
Aside from Bob Rafelson and Bert Schnieder, other members from HEAD's production crew also previously worked on The Monkees TV series: Mike Pozen, Jack Williams, Gene Ashman, Igo Kantor, Les Fresholtz, Jon Andersen and Marilyn Schlossberg. The TV show's sound-effects company, Edit-Rite, lent its many noises to the movie's audio track as well.
Terry Chambers (Hero) and John Hoffman (The Sexfiend) were responsible for providing footage from old movies to insert between certain scenes in episodes of The Monkees TV show.
Burton Gershfiled and Bruce Lane, responsible for all of the special color effects in HEAD, were mistakenly credited in HEAD's pressbook as Post-Production Assistants.
Director of Photography Michel Hugo was later chief cinematographer for the primetime soap Dynasty (ABC, 1981–89).
HEAD's unit production manager Harold Schnieder was kid brother to executive producer Bert Schneider; their father Abraham was Studio Head of Columbia Pictures. Harold Schnieder and Bob Rafelson later collaborated on the films Five Easy Pieces (Columbia, 1970), Stay Hungry (United Artists, 1976), and Black Widow (20th Century-Fox, 1987).
Tommy Boyce and Bobby Hart, tunesmiths responsible for composing a great many songs for The Monkees, were strictly persona non grata in HEAD, with nary a song to their credit in its soundtrack listing.
An early demo recording of Bob Rafelson and Jack Nicholson's "Ditty Diego" (a.k.a. "Movie Jingle"), included as a bonus selection on Rhino's 1994 reissue of the HEAD soundtrack, reveals it had an extra stanza:

To mix it all together, picture sounds and songs,
And time and place and weather, and even rights and wrongs!


Naturally, this line was expunged when time came to record the actual track.
In the scene where, Michael awakens and witnesses the other three Monkees dressed as druids, chanting and then suddenly breaking into a rousing rendition of "Happy Birthday To You", they might very well have sung, "Happy Birthday, Mike and Davy," for David Jones shares a birthday with Michael Nesmith (December 30th)!

Collector's Note: Micky, David, and Peter recorded the traditional song by Patti Smith Hill and Mildred J. Hill with organ accompaniment [provided by Michael Rubini] on August 3, 1968 at RCA Victor Studios, Hollywood. Never officially released, Rhino added the short piece as a bonus to their 1994 reissue of the HEAD soundtrack.)

An unused scene from the movie HEAD (it would have occurred just after the gal kisses them and leaves the pad) would have the guys each looking at themselves in the mirror and seeing the persona the public sees: Peter is dressed as a clown (someone else is wearing a clown outfit in the scene when people are watching the girl deciding whether or not to jump); Michael has on a tux with a top hat, tails & a cane and descends a red carpet staircase; Micky is a satyr; and David is dressed as a sheik. Other deleted scenes include:

In the war trench scene, David tosses a hand grenade and it explodes; after which, he and Sgt. Michael resuce a rabbit from the trenches.
After David shows his way out of the big black box by fighting his way out, the other Monkees demonstrate their own way to escape: Michael "cons" his way out, Micky entices his mates in working together, and Peter devises a method involving meditation.
The Monkees, led by David, confront the dreaded Coca-Cola machine in the desert.

A website located @ http://www.brilton.net/html/i/monkees_head_outtakes.html fully describes at least 2 of these scenes. A rare trailer called "NY Action," included as an extra feature on Rhino's HEAD DVD (R2 4460), features a potpourri of expurgated scenes from the movie as well as several well-known scenes and other snippets.
The birthday-party sequence set to "Long Title: Do I Have To Do This All Over Again" was filmed on a set from Rosemary's Baby (Paramount, 1968).
The factory sequences were all filmed at The Pepton Industrial Plant.
---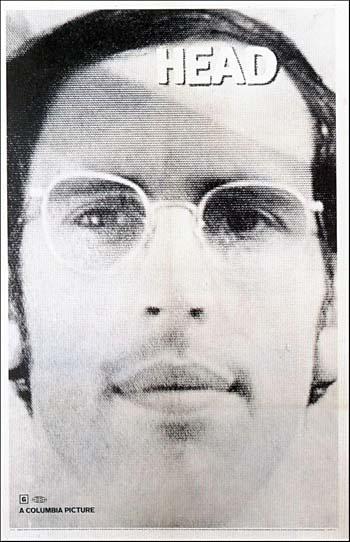 Trivia Notes For HEAD:
HEAD was among the first movies to recieve an MPAA rating (G for General Audiences); it opened a good 5 days after the Motion Picture Association of America instituted its film ratings system.
You notice that HEAD has no opening credit sequence.
Changes, the second working title for The Monkees' movie, eventually later became the title for their ninth and final original LP (#COS-119, released in May 1970).
The vaccuum cleaner which is used to suck The Monkees out of The Big Victor's hair is manufactured by The Bison Bag Company. There is a for-real company with the same name located in Lockport, NY, which specializes in printers, Converters, laminators of polyethylene, polypropylene, COEX, polyester, metalized films, nylon, PVDC coated and other flexible packaging materials (bags, sheets, rollstock, pouches, triangle bags, zippers, zipper bags and zipper rollstock).
The huge bed David lands into in the Columbia lot is the same one he was seen riding in in the Season 2 main title sequence of The Monkees TV series.
The Western Union telegram which Michael reads is dated December 31 (New Year's Eve!), 1968, which would be exactly 1 day after Peter Tork officially resigned from The Monkees.
David Jones' "Daddy's Song" song-and-dance number (filmed on Monday, April 8, 1968) is a tribute to late director Vincente Minelli (yes, Liza's dad). The only track on the HEAD soundtrack on which David sings lead, Harry Nilsson's "Daddy's Song" was originally planned as a possible follow-up single for "Valleri", but it was scrapped when Nilsson's own version was junked as a single. (It did later on see release as a single in England, but it didn't chart.)

Trivia Footnote: "If You Have The Time," a previously unissued track written and produced by Bill Chadwick and David Jones, was originally planned to be David's dance number in HEAD, but was replaced by the similar "Daddy's Song" at the last minute. It eventually made it onto the redubbed soundtrack of Monkees Episode No. 14, "Dance, Monkee, Dance", for the CBS Saturday Afternoon run of The Monkees' TV series, and, in July 1987, it was finally released as a featured track on Rhino's Missing Links (RNLP/RNC/R2 70150).
Trivia Footnote #2: David's spotlight singing "Daddy's Song" was originally concieved as a showcase for Michael singing "Magnolia Simms" (which eventually got locked in for the lineup of The Birds, The Bees & The Monkees).

Peter Tork wears a record 4 Nehru shirts throughout the entire movie. David Jones, save for his scene smooching Lady Pleasure (I.J. Jefferson) and the Pasadena Rose Bowl, war trench, live concert and "Daddy's Song" musical sequences, remains clad in his regular green shirt, orange trousers and white boots.
In the scene with The Jumper (June Fairchild), watch out for a female extra wearing a Jeannie outfit. The Monkees TV series preceded I Dream Of Jeannie on NBC during the 1966-67 season, and it was I Dream Of Jeannie which inherited The Monkees' old timeslot on NBC (7:30 p.m. EDT Monday) upon the latter's cancellation in September 1968.
The "Ditty Diego" sequence was used in Columbia Pictures' theatrical trailer for HEAD.
The desert sequences were filmed in Palm Springs, on the same location as the chase climax in It's A Mad, Mad, Mad, Mad World (United Artists, 1963).
During the war-movie parody, Micky Dolenz sports a gold football helmet (formerly belonging to Private One [Ray Nitschke]). It closely resembles the helmet Jack Nicholson wore in Easy Rider.
The war trench sequence was filmed on Bronson Canyon in Hollywood Hills, the same shooting location of the scene of The Batmobile leaving The Batcave on Batman.
The hours of The Columbia-Screen Gems Studio Club are from 9 to 6.
The big black box in the movie HEAD is based on the black room producers of the TV series would make the actors stay in to keep them out of trouble and available for scenes. Micky Dolenz stated each Monkee was appointed to a corner in the room and when the light in their corner lit up it meant that Monkee was needed on the set. There were pillows and music playing to keep the atmosphere ultra groovy. He said they had a heavy duty freezer type door on the room to keep them inside and out of trouble.
2 other HEAD co-stars, the late Logan Ramsey (Off. Faye Lapid) and Charles Macaulay (Inspector Shrink), were later seen in 2 episodes of Mission: Impossible (CBS, 1966–73) with Monkee guest alum Tony Giorgio ("Mijacogeo" [a.k.a. "The Frodis Caper"]): Ramsey and Giorgio in the 3-parter "The Falcon" (Jan. 4, 8 & 11, 1970), and Macaulay and Giorgio in "Lover's Knot" (Feb. 22, 1970).
David's factory fisticuff sequence and Michael, Micky and David's near-fatal conveyor belt ride probably lampoons similar melees in the 1967 20th Century Fox sequel In Like Flint. (Coincidentally, pre-Monkee guest actress Ginny Gan ["The Wild Monkees"] appeared in a brief role in the film as an Amazon.)
David Jones' secret wife Linda Haines (whom he wed on December 15, 1967) was present during the filming of HEAD; she can be seen during the "Long Title: Do I Have To Do This All Over Again" dance party sequence.
Phyllis Barbour Nesmith is also seen in the "Long Title" sequence in HEAD, only very briefly and hardly noticably. (She's wearing a flowered dress with her hair down. Here are 3 ways to spot her. #1: Look at the right side of the screen when they show an above shot of Lord High n' Low coming toward The Monkees. #2: Also, look on the right side, near the throne exactly right after the song ends. #3: Near the beginning of the song, she is clearly seen dancing, but not her face. A light of another girl's face is shone on Phyllis' hair as it covers her own face.)
The presence of the Coca-Cola machine in the movie HEAD might have proven to be prophetic for its distributor, Columbia Pictures; in the 1980s, the studio became 'a product of the Coca-Cola Company'!
The beach buggy The Monkees are seen tooling around the Columbia Pictures lot is a Mantaray II Kyote, which was designed by Dean Jefferies, stylizer of The Monkeemobile, and also Black Beauty for The Green Hornet (ABC, 1966-67).
This film also intersperses filmclips featuring Jon Brockman (who engineered HEAD's promotional campaign and was featured with The Monkees again at the beginning of their 1997 ABC-TV reunion special, Hey Hey It's The Monkees) and The Rockettes, and scenes from the following movies: Gilda (Columbia, 1946), Golden Boy (Columbia, 1939), City For Conquest (Warner Bros., 1940), and The Black Cat (Universal, 1941). A brief snippet of the Hanna-Barbera Loopy DeLoop cartoon Two Faced Wolf (released April 6, 1961 by Columbia Pictures) can also be seen. And the b/w excerpt of the two men watching an old lady dance wildly ("You make motion pictures here, don't you? Watch this!") is from a 1944 Columbia B-picture called Jam Session; the two men are actors George Eldredge and Eddie Kane, and the old woman is actually a young Ann Miller in disguise.
The drum set Micky Dolenz uses in the concert scene, with the word "DRUM" emblazoned on the large tum-tum, will be reused by The Monkees (sans Peter Tork) for an ill-fated February 5, 1969 appearance on The Glenn Campbell Goodtime Hour (CBS, 1969-72).
The same Vietnam War footage that was interspersed into HEAD was reused in Bert Schneider's Oscar-winning documentary Hearts And Minds (Warner Bros., 1974).
The incarnation of the famed Columbia Pictures "Torch Lady" production slate seen at the end of HEAD (which flutters, travels erratically on the sprockets, and finally burns) is a completely different logo than the one used in Columbia films at the time, probably created for this very film. Incidentally, Columbia was in its 45th aniversary year at the time of HEAD's release.
HEAD had its television broadcast premiere as a CBS Late Movie on Monday, December 30, 1974 (Michael Nesmith's 32nd birthday, and David Jones' 29th), at 11:30pm (EST), airing opposite The Tonight Show With Johnny Carson on NBC and The Gator Bowl (Texas Longhorns versus Auburn Tigers) on ABC. CBS repeated the film on Monday, July 7, 1975, also @ 11:30 PM (EDT), against Johnny Carson on NBC and Wide World Mystery on ABC. These airings truly proved to be The Monkees' last hurrah on network television until 1997.

CBS Promo #1: "Tonight the singing Monkees star in the musical HEAD--a television premiere on The CBS Late Movie."
CBS Promo #2: "On
The CBS Late Movie, The Monkees get it all together in a film that's out of this world. Take off on a non-stop trip of hilarity and song with 4 young men who don't know where they're going. The Monkees are on the move in HEAD."

HEAD was The Monkees' final collaboration with Raybert Productions, and their only venture on the big screen. However, in recent years, David, Micky and Peter made cameos as judges in The Brady Bunch Movie (Paramount, 1995), and Michael appeared as a cabbie in Burglar (Warner Bros., 1987).
---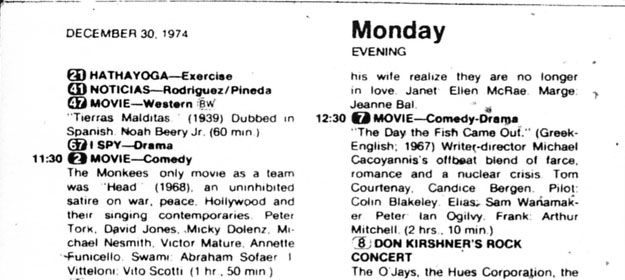 TV Guide listing for HEAD's TV debut on The CBS Late Movie (December 28, 1974-January 3, 1975 issue).
Supporting Cast Notes For HEAD:
The movie also features Rafelson, Nicholson, Jon Andersen, and Dennis Hopper in interesting cameos during the Columbia-Screen Gems Studio Club café sequence; other cameos include Helena Kallianiotes (as a belly dancer in the "Can You Dig It" number; she would go on to star as Palm Apodaca in Five Easy Pieces [Columbia, 1970], another Bob Rafelson-Jack Nicholson vehicle) and wrestler Tiger Joe Marsh (as a security guard). Nicholson and Hopper would, of course, later be featured in Easy Rider (Columbia, 1969), which was executive-produced by HEAD executive producer Bert Schneider, and also featured HEAD choreographer Toni Basil.
Three actors in HEAD were also seen in guest roles on The Monkees TV series: Vito Scotti (I. Vitteloni in the movie and Dr. Marcovich in Episode No. 17, "The Case Of The Missing Monkee"), William Baghdad (The Black Sheik in the movie and Curad in Episode No. 35, "Everywhere A Sheik Sheik"), and Frank Zappa (The Critic in the movie and 'Mike Nesmith' in the teaser of Episode No. 57, "The Monkees Blow Their Minds"). Also, look for Valerie Kairys in the scene with The Jumper (June Fairchild); she's the one with a hanky near her eye.
The late Percy Helton (Heraldic Messenger) portrayed Homer Cratchit on The Beverly Hillbillies (CBS, 1962-71). Helton appeared with Oscar Beregi Jr. ("The Prince And The Paupers") in a January 31, 1963 episode of The Twilight Zone (CBS, 1959-64), "Mute."
Annette Funicello (Minnie) is, of course, one of the original Mouseketeers of The Mickey Mouse Club (ABC, 1955-59), and appeared with Frankie Avalon in several Beach films for American International in the 1960s, starting with 1963's Beach Party. Funicello is the second Mouseketeer to be involved with a Monkees celluloid project; the first was Sherry Alberoni, who was Leslie Vandenburg in Episode No. 9 of The Monkees TV series, "The Chaperone".
Carol Doda (Sally Silicone) was a silicone-enhanced striptease artist.
The late veteran character actor Timothy Carey (Lord High'n'Low) played minor but important roles in several major films of the 1950s, including East Of Eden (Warner Bros., 1955 as Joe), The Killing (United Artists, 1956, as hired gunman Nikki Arane), and Paths Of Glory (United Artists, 1957, as Private Maurice Ferol, one of the doomed soldiers); he previously appeared with HEAD co-star Annette Funicello in 1964's Bikini Beach and 1965's Beach Blanket Bingo, as South Dakota Slim. Another Monkee guest star, Len Lesser (Red in "The Monkees In Texas" and George in "The Monkees In A Ghost Town"), played South Dakota Slim's brother, North Dakota Pete in 1965's How To Stuff A Wild Bikini. Carey's birthday, March 11, fell on the eve of the birthday of HEAD co-star William Baghdad.
The late T.C. Jones (Mr. and Mrs. Ace) was a renowned female impersonator. Jones previously appeared with with HEAD co-star Charles Irving (Mayor Feedback) in 3 Nuts In Search Of A Bolt (Harlequin International, 1964), written, produced, directed by and starring Tommy Noonan.
Terry Garr (Testy True) is none other than Teri Garr of movie fame. She previously had a bit part in a February 2, 1966 episode of Batman (ABC, 1966-68), "Instant Freeze" (#8707-Pt. 1), which also guest-starred pre-Monkee TV guest Ken Del Conte ("Your Friendly Neighborhood Kidnappers"). Garr and David Jones later appeared together in an October 10, 1997 episode of Sabrina The Teenage Witch (ABC, 1996-2003), "Dante's Inferno."
The late Ray Nitschke (Private One) was drafted by the Green Bay Packers in the third round of 1958, and played as their QB for 15 seasons before retiring in 1972.
The late Charles "Sonny" Liston (the extra), the other major athlete to appear in HEAD, was a former heavyweight champ who was dethroned in 1964 by Cassius Clay Jr. (b/k/a Muhammad Ali).
The late Victor Mature starred in a lion's share of pictures in the 1940s and '50s; his roles in My Darling Clementine (20th Century-Fox, 1946, as Dr. John "Doc" Holliday), Kiss Of Death (20th Century-Fox, 1947, as Nick Bianco), Samson And Delilah (Paramount, 1949, as Samson), and The Egyptian (20th Century-Fox, 1954, as Horemheb) being his best work. Mature's role in HEAD, The Big Victor, was a living metaphor for RCA Victor--of which Colgems Records, The Monkees' label, was a subsidary--one of the "capitalist interests" making millions from The Monkees. Mature agreed to appear in the movie after reading the script, admitting none of it made sense to him: "All I know is it makes me laugh."
The late Abraham Sofaer, a true Swami, provided the Melkotian voice in the October 25, 1968 episode of Star Trek (NBC, 1966-69), "Spectre Of The Gun," which also guest-starred Monkee guest alumnus Rex Holman ("The Monkees In Texas").
Actress June Fairchild, who plays "The Jumper" in HEAD, made an early, uncredited appearance with the boys in the episode "The Chaperone". She feeds "Mr. Schneider" a potato chip and asks him for some advice, then pulls his string for an answer; she surprisingly wouldn't get onscreen credit for her appearance on the show. June would work again for producer Bert Schneider in Jack Nicholson's directorial outing Drive, He Said (Columbia, 1971), but is probably best known as the "Ajax Lady" in Cheech & Chong's Up In Smoke (Paramount, 1978), which featured a cameo by DJ Rodney Bingenheimer (David's double in "The Prince And The Paupers").
---
<< Back to THE SECOND SEASON! | Back To The Monkees Film & TV Vault! | On to MONKEES TV SPECIALS! >>